Run a FLEAP Program
The Education Abroad office supports UCR faculty and departments in developing faculty-led summer programs in other states or countries. We aim to collaborate with you and assist in every step as you plan and coordinate a high-impact experiential program.
This webpage covers a timeline from idea to departure, and contact information, funding, and frequently asked questions about teaching a summer Faculty-Led Education Abroad Program (FLEAP). FLEAPs are academic programs:
Designed and taught by UCR faculty from any academic department
Taught in the summer term
Hosted for 2-5 weeks, typically in another country 
Open to undergraduate and graduate students at UCR and other universities
Often include 8 units of summer courses; non-credit, fieldwork, and research possible
What are the benefits of running a FLEAP?
Are you interested in leading a FLEAP?
Please complete our Interest Form
---
Deadline to submit a Summer 2025 FLEAP interest form:
October 1, 2023 
How to Get Started as FLEAP Faculty
UCR faculty should take the first step at least 20 months before a program departs. We need this much time to prepare itineraries with third-party providers, finalize budgets, sign the required paperwork, and recruit a minimum of 12 students who pay deposits. Info Sessions are scheduled if you'd like to learn more or ask questions in person.
 
Timeline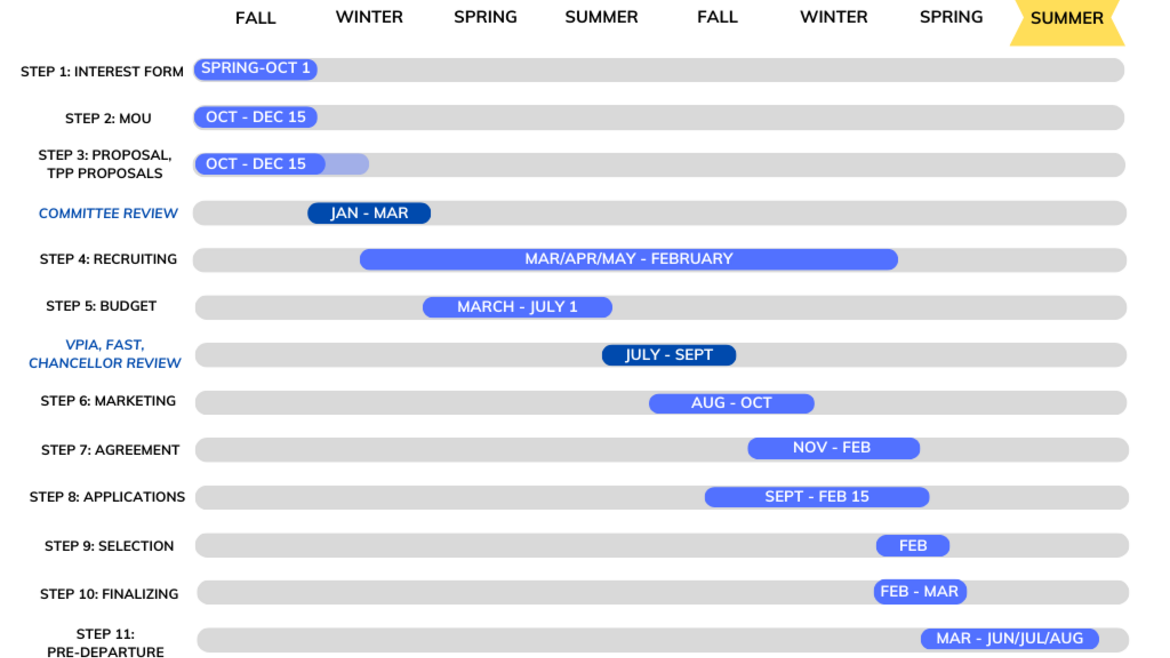 Click a card below to display more information.
---
Submit an Interest Form to the Education Abroad office by October 1.
The interest form collects information on:
Your contact details
Your academic department details
Proposed program title
Proposed courses you'll teach 
Location(s) of the program
Which Summer Session you'll teach
After you've submitted the interest form, or if you have questions about the form, reach out to the Education Abroad Staff Contacts.  We are happy to talk with you as you sign an MOU and prepare your FLEAP proposal (Step 3) due by December 15.   You can also attend an Info Session.
---
Sign an MOU by December 15.
After you have submitted your interest form, we'll send you a Memo of Understanding (MOU) via DocuSign that outlines the responsibilities of the faculty leader and Education Abroad office. Please sign this form in addition to the proposal (Step 3).
---
Submit the FLEAP Proposal, including Third-Party Provider Info, by December 15.
After you submit an interest form and sign an MOU, you'll need to submit a FLEAP proposal, due by December 15, up to 19 months before your program departure.
As part of your preparation, email and/or set up exploratory calls with at least two third-party providers (TPPs) listed here, and collect at least two bids. Anticipate that you'll be waiting 3-6 weeks for a proposal bid from each provider, so plan accordingly. For example, reach out to your providers by October 20 if you expect a bid by December 1. Select a final bid from your preferred provider and submit the entire proposal by December 15. You should upload and attach the proposal you receive from a TPP to this form.
Faculty-led Education abroad program (FLEAP) proposal Form
A committee will review your proposal after submission. Then, the Education Abroad office will announce the approved proposals.
In some cases, there is a revise and resubmit process.
For Approved FLEAP Programs:
---
Recruit students (ongoing).
Expected Time Frame: 9-11 months
You may start to promote your program as soon as you are accepted. Recruit a minimum of 12 student applicants with confirmed deposits by the February 15 deadline (the February before your summer program). Remember that there is a lot of "melt" in applications, so we recommend you speak with at least 50 students to meet this minimum enrollment. 
If you don't have a finalized budget for your program, we recommend you still collect student interest forms. Upon faculty request, the EA office may create an online interest form and collaborate on joint info sessions.
FLEAP Application Info:
Students need to apply and make a $300 nonrefundable deposit before February 15 for your summer program.
If there are not at least 12 deposits by the February before your summer program, we may refund the students their $300, and the program is unlikely to run.
If there are more than 20 deposits, we may employ a waitlist for students based on first-come-first-served.
We will open the applications on MyUCRAbroad. 
If the applications aren't open yet, please encourage students to create their MyUCRAbroad profile.
The EA office can assist you in student outreach and recruitment. Request a classroom visit here.
---
Create a FLEAP budget and complete all FLEAP documents by July 1.
Expected Time Frame: 3-4 months
As soon as your program is approved, meet with the EA office and Financial and Administrative Solutions Team (FAST) to create a FLEAP budget (download sample), which finalizes the program cost per student. You will also sign a Faculty Agreement Form. You may have more than one meeting to review budget details, so start this process as soon as possible. 
Complete all FLEAP documents by July 1, including:
After all FLEAP faculty submit all program documents, we send them to the following offices for review and approval, which may take 2-3 months:
Vice Provost of International Affairs
Financial Planning and Analysis Office
Chancellor's office
---
Create marketing and communications content by October.
Expected Time Frame: 2-3 months
Over the Summer, collaborate with the EA office to review and build content on the MyUCRAbroad application portal, website, social media, and flyers. Discuss how you'll promote the program through classroom talks, info sessions, attending the Worldfest study abroad fair, and more. 
Ideal deadline for MyUCRAbroad: Mid-September.
---
Sign a Faculty Agreement Form.
Expected Time Frame: 1-4 months
After all FLEAP faculty have their documents approved, we will send you a Faculty Agreement Form via DocuSign that outlines the agreed-upon costs and responsibilities of leading the FLEAP program.
Sample Faculty Agreement Form (2023)
---
Receive student applications until February 15.
Expected Time Frame: 4-6 months
Students can apply as soon as the MyUCRAbroad application portal posts the FLEAP program details. At least 12 students must also pay a $300 deposit to ensure their applications are considered "submitted." Continue to recruit students through info sessions, classroom talks, and more.
The student application deadline is February 15.
---
Select students in February.
Expected Time Frame: 1 month
After February 15, you can review applicants, accept a minimum of 12 students on a first-come-first-served basis, and create waitlists if necessary. The EA office assists by sending acceptance and non-acceptance emails.
---
Finalize programs.
Expected Time Frame: 1 month
The EA office reviews which FLEAP programs meet the minimum enrollment number of 12 students who have paid the deposits. The EA office then communicates the programs' "go" and "no-go" statuses based on minimum enrollment numbers.
---
Pre-departure preparation.
Expected Time Frame: 3-5 months
UCR faculty and students prepare for departure, such as:
Enrollment in courses
Applying for passports and/or visas
Buying flights
Meeting to discuss financial aid and scholarships
Attending pre-departure meetings and safety orientations
UCR faculty also finalize travel plans, including any airfare or hotel reservations.
UCR faculty and students leave on FLEAP programs.
UCR faculty and students return from their FLEAP programs and document and/or present their experiences.
Faculty also complete their travel reimbursement process.
Frequently Asked Questions
Frequently asked questions about UCR Faculty-led Education Abroad Programs (FLEAP)